Vehicle Pre Purchase Inspection Woodstock, GA
What Is A Pre-Purchase Inspection? A pre-purchase inspection is a detailed report about the cosmetic, mechanical condition, and safety concerns of a vehicle one may be interested in purchasing. Fastlane Import Auto Repair, your Japanese Specialist in Woodstock, GA at 7853 Highway 92.
Schedule Appointment
Used Vehicle Pre-Purchase Inspection
---
The first piece of advice anyone gives to a used car buyer is to have the vehicle thoroughly inspected by a licensed, third-party mechanic.
If you Buy a House you don't question getting an inspection, your vehicle is often your second largest single purcahse, why risk getting a car that won't provide you with years of reliable use?
Pre-Purchase Vehicle inspections offer many advantages to the buyer and Inform you of any potential issues present with the vehicle. A Pre-Purchase Inspection gives the buyer negotiating power when purchasing.
Carfax can be a good starting point, but Carfax doesn't always give you a clear picture of a vehicle's condition, for instance, if someone pays out of pocket for bodywork it will not show up on the Carfax report.
If for any reason the first vehicle fails Pre-Purchase Inspection, this offer is good for 1 more vehicle inspection within 30 days of the date of inspection.
Fastlane is not responsible for any vehicle issues or problems after the inspection is performed. The customer is aware this is a used vehicle and we can only inform you of issues present at the time of inspection.
Our focus is on providing top-of-the-line customer service. The foundation of our reputation is built on fast turnaround times, very competitive pricing, and treating people the way we want to be treated – honestly and fairly.
Pre-Purchase Used Car Inspection Checklist Includes: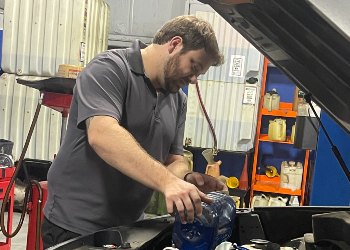 Body Condition Inspection: Dents, Rust, Body Lines, Panels, Paint, and Underbody/Frame for signs of damage
Engine Inspection
Steering, Suspension, & Drivetrain Inspection
Wheel & Tire Inspection
Lights
Transmission & Drive Axle Inspection
Lights, Instrument Gauges, Wiring, & Electrical System
Brake System
Air Conditioning – HVAC
Convenience Group
Radiator – Hoses
Exhaust
Frame – Drive Axles
Odd Noises
Windshield and glass
Belts & Hoses
Fluid Condition or Fluid Leaks (Oil, Coolant, etc)
Battery and alternator