Japanese
Auto Repair

Smyrna, Ga
Fastlane Import Auto Repair is a Japanese auto that provides professional services in Smyrna, Georgia. We are a family-owned and operated full-service repair and maintenance facility. Our auto repair technicians are trained in the latest vehicle diagnostics methods and have years of experience to ensure that you will be satisfied with our services.
*OEM Factory Parts Guaranteed
Schedule Appointment
770.803.6320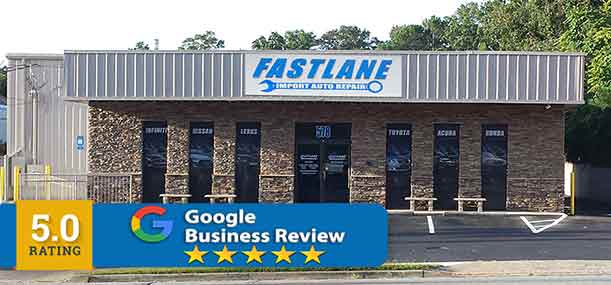 Smyrna
Address
578 Windy Hill Rd, Smyrna, Ga 30080
Hours
Mon - Fri 8:00AM - 6:00PM
Sat 8:00AM - 2:00PM
Phone
770.803.6320
Store Manager
Nick - 678.902.7833
Services We Offer in Smyrna
We have been providing Japanese auto repair services at our Smyrna, Georgia, location since 2008. We guarantee high quality service and parts. We provide the most accurate and thorough diagnosis of your vehicle's problem and parts requirements using the latest diagnostic methods. Our commitment to customer service goes beyond our shop.
Pick Us Up For Japanese Auto Service in Smyrna
At Fastlane Import Auto Repair Smyrna shop, we have a dedicated team of Japanese auto repair technicians with years of experience and strive to ensure that our service is top-tier. We promise you will leave our auto repair shop smiling and experience a fast turnaround time. Visit us today for service!