Japanese
Auto Repair

Smyrna, Ga
Fastlane Import Auto Repair is a Japanese auto that provides professional services in Smyrna, Georgia. We are a family-owned and operated full-service repair and maintenance facility. Our auto repair technicians are trained in the latest vehicle diagnostics methods and have years of experience to ensure that you will be satisfied with our services.
*OEM Factory Parts Guaranteed
Schedule Appointment
770.803.6320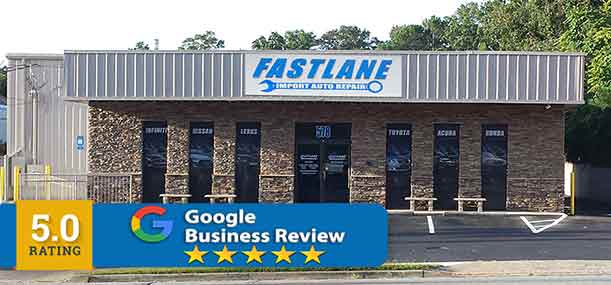 Smyrna
Address
578 Windy Hill Rd, Smyrna, Ga 30080
Hours
Mon - Fri 8:00AM - 6:00PM
1st & 3rd Sat 8:00AM - 2:00PM
Phone
Store Manager
Nick - 678.902.7833
Excellence in Japanese Auto Repair: Your Vehicle, Our Expertise
Welcome to Fastlane Import Auto Repair, where we specialize in providing exceptional maintenance and repair services exclusively for Japanese vehicles. Our passion lies in servicing renowned brands like Lexus, Infiniti, Toyota, Honda, Nissan, Subaru, and Mazda - all synonymous with reliability, fuel efficiency, and cutting-edge technology. When you choose us, you choose a team dedicated to ensuring your utmost satisfaction.
Our expertise revolves around the intricate craft of Japanese auto repair, which demands more than just general knowledge of auto mechanics. It requires a profound understanding of the specific engineering and design principles that make these brands exceptional. Across the world, you'll find specialized mechanics and repair shops dedicated solely to Japanese autos, and we proudly stand among them.
While the fundamental components of these vehicles, such as the engine, transmission, brakes, and suspension, share similarities with other automobiles, the true advantage lies in grasping the nuances of these particular brands - their unique parts, sophisticated software, and common issues. At Fastlane Import Auto Repair, we take immense pride in our specialization, as it empowers us to deliver unparalleled service to our cherished customers.
Your Japanese vehicle deserves the best, and that's precisely what we offer - unmatched expertise, personalized care, and a commitment to maintaining the excellence of your automobile. Drive with confidence, knowing that your vehicle is in the hands of true Japanese auto repair experts.
Services We Offer in Smyrna
We have been providing Japanese auto repair services at our Smyrna, Georgia, location since 2008. We guarantee high quality service and parts. We provide the most accurate and thorough diagnosis of your vehicle's problem and parts requirements using the latest diagnostic methods. Our commitment to customer service goes beyond our shop.
Pick Us Up For Japanese Auto Service in Smyrna
At Fastlane Import Auto Repair Smyrna shop, we have a dedicated team of Japanese auto repair technicians with years of experience and strive to ensure that our service is top-tier. We promise you will leave our auto repair shop smiling and experience a fast turnaround time. Visit us today for service!