Auto Repair

Woodstock, Ga
Fastlane Import Repair is pleased to serve the Georgia community as a premier facility for repairing all automobiles. Our business is a full-service repair and maintenance shop run by a local family. Since 2008, we have provided the residents of Woodstock with unmatched service and quality assurance when it comes to vehicle repairs. We employ the most up-to-date diagnostic tools to ensure that your car is maintained or repaired correctly and in a timely manner. Our mechanics are all ASE-certified, and we only utilize genuine OEM components.
*OEM Factory Parts Guaranteed
Schedule Appointment
770.803.6320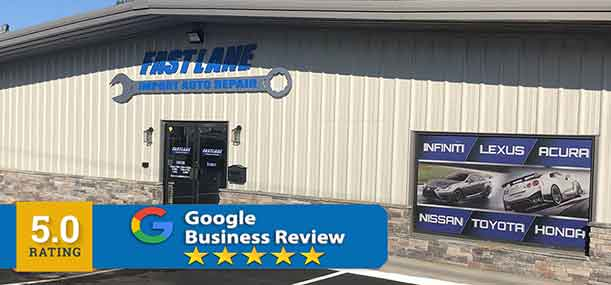 Woodstock
Address
7853 GA-92 Woodstock, GA 30189
Hours
Mon - Fri 8:00AM - 6:00PM
Phone
770.924.8055
Store Manager
Brandon - 470.348.7475
Common Auto Repair Questions
Welcome to Fastlane Import Auto Repair in Woodstock, Georgia! We understand that getting your vehicle repaired can bring up a lot of questions. Here's how we address some of the most common inquiries we receive from our valued customers:
Certification and Experience:
Our technicians are ASE certified and possess a wealth of experience working on a wide array of makes and models. Whether you drive a domestic classic or an exotic import, we've got the expertise to handle your vehicle with the utmost care.
Parts:
At Fastlane, we offer OEM factory parts to meet your needs. All parts come with a warranty for your peace of mind. Plus, we're transparent with our work - we'll show you any replaced parts and explain the wear and damage they've sustained.
Estimates:
We provide written estimates upfront to ensure there are no surprises when it comes to cost. Should we find additional issues during the repair, we will promptly contact you to discuss and get your approval before proceeding.
Time Frame:
We know that your time is valuable, and being without a car is a major inconvenience. We strive to give you an accurate time frame for repairs, and our goal is to get you back on the road as quickly as possible without compromising the quality of our work.
Specialized Auto Repair Services for Your Utmost Satisfaction
Discover top-tier automotive care at Fastlane Import Auto Repair, where our expertise lies in the maintenance and repair of Japanese vehicles. We take pride in servicing renowned brands such as Lexus, Infiniti, Toyota, Honda, Nissan, Subaru, and Mazda - all globally acclaimed for their unwavering reliability, fuel efficiency, and cutting-edge technology.
What sets us apart is our profound understanding of the unique craft required to repair Japanese vehicles. This specialization goes beyond general auto mechanics and delves into the specific engineering and design principles of these exceptional brands. Across the globe, you'll find dedicated mechanics and repair shops catering exclusively to Japanese autos, and we stand proudly among them.
While the core components of these vehicles, such as the engine, transmission, brakes, and suspension, share similarities with other vehicles, the true advantage lies in comprehending the intricacies of these particular brands - from their distinct parts and software to common issues that may arise. At Fastlane Import Auto Repair, our commitment to Japanese auto repair allows us to deliver an unparalleled level of service to our valued customers. Your satisfaction is our driving force, and we ensure your Japanese vehicle receives the utmost care and attention it deserves.
Services Available in Woodstock
All repairs, big or little, on your vehicle, may be handled by our auto repair shop. The following are some of the services we provide.
Experience Unmatched Expertise at Fastlane Import Auto Repair
Choosing Fastlane Import Auto Repair in Woodstock, Georgia means entrusting your vehicle to seasoned experts who understand the unique needs of imported cars. Our dedicated team of certified technicians combines years of experience with state-of-the-art diagnostic equipment to offer you reliable, comprehensive repair services. We pride ourselves on transparent pricing, fast turnaround times, and a customer-first approach, ensuring your satisfaction with every visit. Our commitment to using only high-quality replacement parts guarantees that your vehicle not only runs like new but also maintains its integrity and value. At Fastlane, you're not just a customer; you're part of our automotive family, where we prioritize your safety and your car's performance on the road. Choose us for a service that's as dependable as your ride.
Choose Us for Auto Service in Woodstock
In every case, we at Fastlane Import Auto Repair work hard to ensure that our clients are completely satisfied with the work done on their vehicles. Contact us if you believe your car needs servicing, and we'll schedule an appointment as soon as possible. Before beginning work on your car, we will present you with a comprehensive estimate. To schedule an appointment at our Woodstock location, please give us a call or fill out the form on our website.