Steering Repair & Suspension Repair Woodstock, GA
Your Vehicle's Suspension & Steering Systems are the direct links your vehicle has to the road, meaning these components are critical to the safety of you and your family. Fastlane Import Auto Repair, your Japanese Import Specialist in Woodstock, GA at 7853 Highway 92
Schedule Appointment
Steering & Suspension Services
---
Fastlane Import Auto Repair is your complete steering, suspension, and front-end specialist in the Acworth area. Our technicians will inspect your vehicle ensuring your suspension and steering components are safe and reliable. Should your vehicle need any repairs Fastlane will use high-quality factory suspension and steering components to ensure your vehicle's optimal handling performance and safety.
If your vehicle is displaying any of these characteristics call us today for an inspection. Fastlane will keep your vehicle safe, stable, and steady, but most importantly you and your family will be safe also.
Your safety depends on making certain Steering & Suspension components are inspected on a regular basis.
Suspension and Steering Repair Includes: Shocks, Struts, Tie Rod Ends (Inner and Outer), ball Joints, Control Arms, Steering Stabilizers, Drag Links, Pitman Arms, Sway Bars and Links, Power Steering Pumps, Power Steering Hoses, Rack and Pinion Steering Gears, Lowering Kit Installations, CV Joints or CV Axles.
Symptoms of Steering & Suspension components in disrepair include: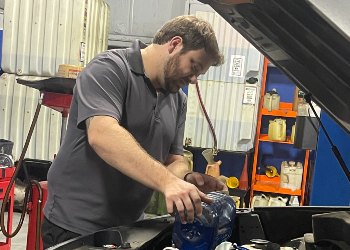 Loud clicking noises when cornering at slow speeds
Feeling Every Bump in the Road
Pulling to One Side While Driving
One Corner of the vehicle is Sitting too Low
Dips or "nose dives" when stopping
Difficult or labored steering
Vehicle drifting or pulling while turning
Uneven tire wear
Damaged shocks or struts (Often will have oil on the body of the shocks)
Bouncey Ride