Nissan Oil Change Service Woodstock, GA
Having your engines motor oil changed regularly is absolutely one of the most important things you can do for your Nissan. Fastlane Import Auto Repair, your Nissan Oil and Filter Chnage Specialist in Woodstock, GA at 7853 Highway 92
Schedule Appointment
Nissan Oil Change
---
Proper maintenance and care at factory recommended maintenance intervals is the best way to keep your Nissan running great, maintain its value and reliability.
The primary difference between Fastlane Import Auto Repair and a Nissan Dealership (*or other OEM) is that we include a safety inspection with every oil change, and do not charge for mileage interval service inspections. We only charge for services or repairs needed based upon findings in our inspections.
Does using Fastlane for Oil Changes void my Nissan factory warranty?
No this will not void your Nissan factory warranty, the Magnuson-Moss Warranty Act of 1975 protects consumers from dealerships voiding your warranty during service.
Our focus is on providing top-of-the-line customer service. The foundation of our reputation is built on fast turnaround times, very competitive pricing, and treating people the way we want to be treated – honestly and fairly.
You can be certain your Nissan is in good hands. Our factory-trained technicians will perform pressure tests, inspect and repair leaks, and replace components, if necessary, to ensure your Import remains in great condition, extending the life of your engine.
Nissan Oil Change & Filter Change from Fastlane includes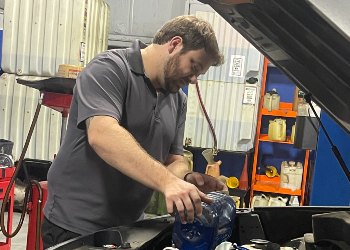 Replace engine oil and fill to factory spec
Replace engine oil filter with factory filter
Check and top off all fluids
Check and test vehicle battery
Check and adjust tire pressure
Filter Change