Mufflers and Exhaust System Woodstock, GA
Does your Import vehicle sound louder than it used to? If so you may have an exhaust leak. Fastlane Import Auto Repair, is your Muffler and Exhaust repair shop in Woodstock, GA at 7853 Highway 92
Schedule Appointment
Exhaust System Repair
---
Fastlane offers muffler replacement and exhaust system repair. If you live in a larger city like Woodstock or Acworth, you may be subject to emissions testing. If you fail your emissions test, you may need to get your exhaust system repaired or replaced. The ASE certified technicians at Fastlane Import Auto Repair can diagnose and repair your exhaust system and help you pass your emissions test. Fastlane is your Japanese Import specialist located 7853 Highway 92, Woodstock, Ga 30189. We specialize in Lexus, Infiniti, Honda, Toyota, Nissan, & Acura.
Does using Fastlane for Exhaust Repair void my factory warranty?
No this will not void your vehicle's factory warranty, the Magnuson-Moss Warranty Act of 1975 protects consumers from dealerships voiding your warranty during service.
Our focus is on providing top-of-the-line customer service. The foundation of our reputation is built on fast turnaround times, very competitive pricing, and treating people the way we want to be treated – honestly and fairly.
Signs of Problems with Your Car's Muffler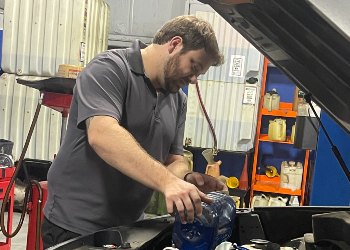 Loud muffler
Exhaust Leak
Cracked exhaust manifold
Exhaust pipe cracked
Rusty pipe
Bad gasket
Bad joint
Break or hole in your exhaust system