Japanese
Auto Repair

Near Acworth, Ga
Are you looking for an auto mechanic to care for your car's maintenance and repair needs? If so, look no further than the Fastlane Import Auto Repair near Acworth, Ga. We're experts in the Japanese automotive repair. Find out why our shop is the best choice for all your auto servicing needs.
*OEM Factory Parts Guaranteed
Schedule Appointment
770.803.6320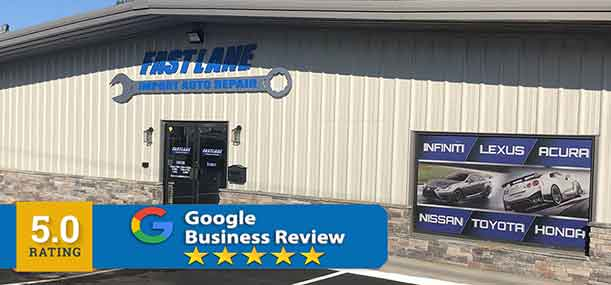 Woodstock
Address
7853 GA-92 Woodstock, GA 30189
Hours
Mon - Fri 8:00AM - 6:00PM
Sat 8:00AM - 2:00PM
Phone
770.924.8055
Store Manager
Jordan - 470.348.7475
Expert Japanese Auto Repair Services: Our Specialization, Your Satisfaction
Here at Fastlane Import Auto Repair, we specialize in the maintenance and repair of Japanese vehicles. This includes models from renowned manufacturers such as Lexus, Infiniti, Toyota, Honda, Nissan, Subaru, and Mazda. These brands are globally recognized for their reliability, fuel efficiency, and cutting-edge technology, and we're proud to service them.
Our expertise lies in the unique craft of repairing Japanese vehicles, a specialty that demands not just general knowledge of auto mechanics, but a deeper understanding of the specific engineering and design principles of these brands. Across many countries, you'll find mechanics and repair shops that are dedicated to Japanese autos, and we're one of them, thanks to the widespread popularity and distinctive engineering of these vehicles.
While the fundamental components of these vehicles, like the engine, transmission, brakes, and suspension, aren't vastly different from those of other vehicles, there's an undeniable advantage to understanding the intricacies of the specific brands, their parts, software, and common issues. That's why here at Fastlane Import Auto Repair, we take pride in our specialization in Japanese auto repair. We believe this expertise allows us to provide an unparalleled level of service to our customers.
Services Available near Acworth
At Fastlane Import Auto Repair, we provide a variety of auto repair services designed to keep your car running like new. Whether it's oil changes, adjustments, brake repairs or engine diagnostics, we have the experience and knowledge to carry out any repair task.
Choose Us for Japanese Auto Service near Acworth
We understand that not everyone knows about car repair, so we take the time to explain each service we provide. We want you to feel confident about our capabilities, and we will never put pressure on you to get a service you don't need. If you are looking for a car repair shop close to Acworth, GA, that you can trust, look no further than the Fastlane Import Auto Repair. Give us a call today to schedule a free consultation.