Regular Service and Maintenance Woodstock, GA
Proper maintenance and service at factory scheduled intervals is the best way to keep your Import Vehicle running well, maintain value, and ensure reliability. Fastlane Import Auto Repair, your Japanese Specialist in Woodstock, GA at 7853 Highway 92
Schedule Appointment
Factory Scheduled Maintenence
---
Does your vehicle need Factory Scheduled maintenance or Service?
Dealer Recommended vehicle maintenance based on manufacturer recommendations can help save you money by performing important preventive services. You can also save money by identifying mechanical issues early on. Maintain the life of your import vehicle by having it serviced routinely using factory scheduled guidelines. Not just any repair shop will work on Japanese vehicles. Fastlane is your Japanese Import specialist located at 7853 Highway 92, Woodstock, GA 30189. We specialize in Lexus, Infiniti, Honda, Toyota, Nissan, & Acura.
The primary difference between Fastlane Import Auto Repair and a Dealership is that we include a safety inspection with every oil change, and do not charge for mileage interval service inspections. We only charge for services or repairs needed based upon findings in our inspections.
Does using Fastlane for Factory Scheduled Maintenence void my vehicle warranty?
No this will not void your factory warranty, the Magnuson-Moss Warranty Act of 1975 protects consumers from dealerships voiding your warranty during service.
Our focus is on providing top-of-the-line customer service. The foundation of our reputation is built on fast turnaround times, very competitive pricing, and treating people the way we want to be treated – honestly and fairly.
Regular Factory Scheduled Maintenance includes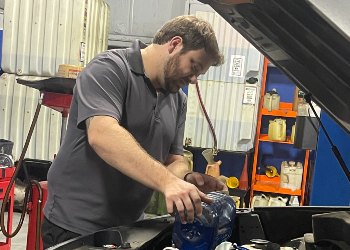 Road test vehicle
Check installation of driver's floor mat
Inspect and adjust all fluid levels
Inspect axle shaft boots, ball joints and dust covers
Inspect body
Inspect brake lines and hoses
Inspect brake rotor thickness and runout
Inspect engine coolant
Inspect exhaust pipes and mounting
Inspect fuel lines and connections, fuel tank band and fuel tank vapor vent system hoses
Inspect fuel tank cap gasket
Inspect inverter coolant
Inspect rack and pinion steering assembly
Inspect steering linkage and boots
Inspect transmission for signs of leakage
Inspect wiper blades
Program Your Vehicle Personalized Settings, if requested
Visually inspect brake pads, calipers and rotors