Lexus Suspension Service

Near Atlanta, Ga
Lexus, being a luxury brand of Toyota, is known for its attention to comfort, performance, and handling. Its suspension system, like that of other vehicles, plays a key role in these attributes. Over time and usage, the suspension components may wear out or get damaged, requiring service or replacement.
At Fastlane Import Auto Repair, we pride ourselves on our expertise with luxury brands like Lexus. When it comes to your Lexus's suspension service, here's how we ensure your vehicle remains in optimal condition.
*OEM Factory Parts Guaranteed
Schedule Appointment
770.803.6320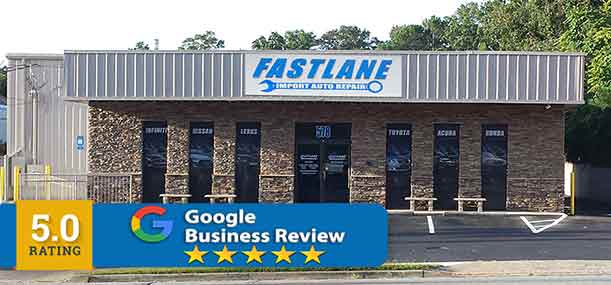 Smyrna
Address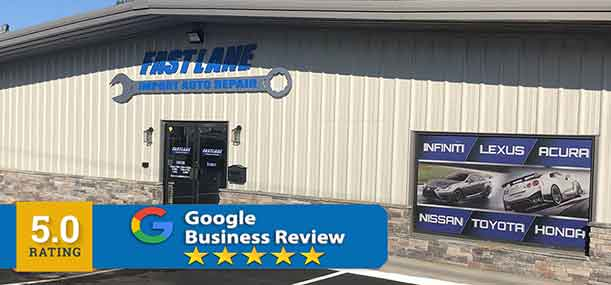 Woodstock
Address
Our Suspension Service Process
Thorough Inspection:

Our team examines for signs of wear or damage, such as leaking shock absorbers or struts.
We inspect bushings for potential degradation or damage.
Uneven tire wear, often an indicator of alignment or suspension irregularities, is scrutinized.
All nuts and bolts in the suspension system are checked for proper tightness.
We take note of any unusual noises during motion or when your Lexus negotiates bumps.

Expert Replacement or Repair:

Shock absorbers and struts: Essential for absorbing road shocks, our team replaces any that are worn out or leaking.
Bushings: We ensure these crucial components, which reduce vibrations between metal parts, are in top shape or replaced if needed.
Control arms: We maintain the perfect up-and-down movement of your wheels, ensuring replacement if any damage is detected.
Ball joints: We understand their importance in ensuring smooth rotation and movement, replacing any that show signs of wear.
Sway bars and links: Preventing excessive body roll is crucial, and we ensure these components are in peak condition.

Precision Alignment:

Post servicing or replacing key suspension components, our specialists carry out a meticulous wheel alignment. This guarantees even tire wear and the Lexus-standard handling you're accustomed to.

Test Drive Assurance:

Every service concludes with a test drive by our seasoned technicians to ensure every component operates seamlessly and without disturbance.

Guidance and Proactive Care:

Fastlane's experts will provide insights into maintaining your suspension's longevity and potential watch-points for the future. We believe in not just fixing, but also guiding our clients for the road ahead.

Complete Documentation:

Transparency is our commitment. We provide a detailed account of the work done, including parts replaced and services performed. This not only serves as a record but also ensures you're always in the loop.
Trust in Fastlane Import Auto Repair to address your Lexus's suspension needs. We guarantee not just a service, but an experience that prioritizes safety, handling, and the luxury comfort synonymous with Lexus. Always remember, when your Lexus speaks, Fastlane listens!