Headlight Restoration Woodstock, GA
Are your Headlights dull, hazy, or yellow? Fastlane Import Auto Repair, your Headlight Restoration & Cleaning Service Specialist in Woodstock, GA at 7853 Highway 92.
Schedule Appointment
Headlight Restoration Cleaning Services
---
Headlights get dull, yellow or hazy over time which can make it unsafe to drive your vehicle at night or in inclement weather. Headlights can dim from the simple wear and tear over time and sunlight. When wear occurs, your headlights weaken and create glare for oncoming drivers which puts your ability to see the road clearly at risk. Stay safe at night with Fastlane Import Auto Repair Headlight Restoration Cleaning Services. Our Cleaning Service helps remove the haze and clarify the lenses, bringing the sparkle back to your headlights. The best part is the results are immediate!
Does using Fastlane for Headlight Restoration void my factory warranty?
No this will not void your vehicle's factory warranty, the Magnuson-Moss Warranty Act of 1975 protects consumers from dealerships voiding your warranty during service.
Our focus is on providing top-of-the-line customer service. The foundation of our reputation is built on fast turnaround times, very competitive pricing, and treating people the way we want to be treated – honestly and fairly.
Headlight restoration is more cost-effective than buying new headlights.
Here Are Some Signs Your Headlights Need Restoration & Cleaning: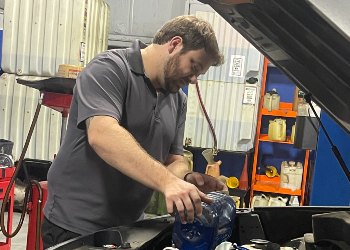 Your lights aren't as bright as they used to be
Trouble seeing at night
Trouble seeing in inclement weather
Yellowed Headlights
Clouded appearance so that you cannot clearly see the bulbs
Multiple scratches that obstruct your view of the bulb