Japanese Import Car Belt & Hoses Repair Woodstock GA
Have your Acura inspected for repair needs, cooling system issues, scheduled cooling system service & preventative maintenance with Fastlane Import Auto Repair, your LEXUS Specialist in Woodstock, GA. 7853 GA-92
Schedule Appointment
Japanese Import Vehicle Belt & Hose Services
---
Did you know that over time your vehicle's engine accessory belts and hoses like drive belts, timing belts, and coolant hoses will dry out and crack? These cracks can lead to bigger problems if left unnoticed. It is important to inspect your drive belts and hoses and have them replaced as needed.
Signs that you need to have your belts checked include: Peeling, splitting, or fraying belts, Cracks in the belt material, Hear squealing or whining sounds after starting the vehicle or when raining
Our focus is on providing top-of-the-line customer service. The foundation of our reputation is built on fast turnaround times, very competitive pricing, and treating people the way we want to be treated – honestly and fairly.
You can be certain your Japanese Import is in good hands. Our factory-trained technicians will perform pressure tests, visually inspect cooling system components, repair leaks, and replace components, if necessary, to ensure your Import remains in great condition, extending the life of your engine.
Have your hoses checked if you notice any of the following: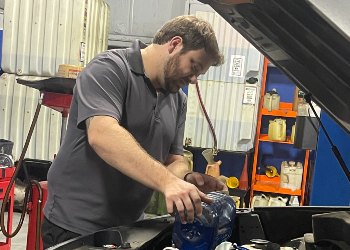 Cracks along the hose
Hardened or inflexible hose material
Bulging or inflated hoses
Worn or corroded hose clamps