Japanese
Auto Repair

Near Canton, Ga
Located not far from Canton, Georgia, Fastlane Import Repair is here to serve your Japanese vehicle repair needs. We provide comprehensive maintenance and repair services and are a small business run by a local family. Since 2008, we've been providing the region with reliable and assured vehicle repair services.
We employ state-of-the-art diagnostic tools to ensure that your car is maintained or repaired correctly and promptly. We exclusively employ the best tools and equipment to complement our ASE-certified mechanics and top-notch replacement components.
*OEM Factory Parts Guaranteed
Schedule Appointment
770.803.6320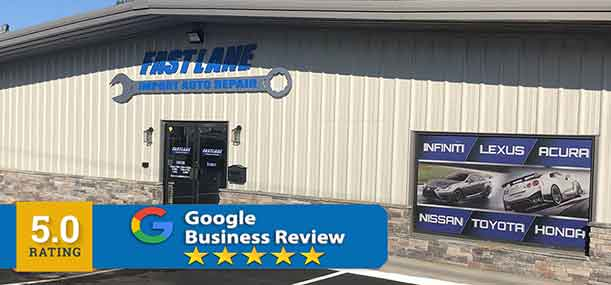 Woodstock
Address
7853 GA-92 Woodstock, GA 30189
Hours
Mon - Fri 8:00AM - 6:00PM
Sat 8:00AM - 2:00PM
Phone
770.924.8055
Store Manager
Jordan - 470.348.7475
Excellence in Japanese Auto Repair: Your Vehicle's Trusted Partner
Welcome to Fastlane Import Auto Repair, where we take immense pride in delivering exceptional maintenance and repair services exclusively for Japanese vehicles. Our dedication to excellence extends to renowned brands such as Lexus, Infiniti, Toyota, Honda, Nissan, Subaru, and Mazda - all esteemed for their unwavering reliability, fuel efficiency, and cutting-edge technology. When you choose us, you gain a reliable and skilled team committed to ensuring your utmost satisfaction.
At the core of our expertise lies the art of Japanese auto repair, a specialized craft that demands expertise beyond standard auto mechanics. It requires an in-depth understanding of the unique engineering and design principles that make these brands exceptional. Across the world, you'll find specialized mechanics and repair shops solely dedicated to Japanese autos, and we are proud to be recognized among the best.
While the fundamental components of these vehicles, including the engine, transmission, brakes, and suspension, may share similarities with other cars, the true advantage lies in our ability to comprehend the intricate details that set each brand apart - from their exclusive parts and sophisticated software to the typical issues they may encounter. At Fastlane Import Auto Repair, our specialization empowers us to deliver unparalleled service to our valued customers.
Your cherished Japanese vehicle deserves the utmost care, and that's precisely what we promise to provide - exceptional expertise, personalized attention, and an unwavering commitment to maintaining the excellence of your automobile. Drive with complete confidence, knowing that your vehicle is in the hands of genuine Japanese auto repair experts who will ensure it runs smoothly and reliably on every journey you undertake.
Our Auto Repair Services Near Canton, Ga
Located near Canton, our shop can handle any repair work on your Japanese import vehicle. Some of the services we offer in the area are listed below.
Pick Us up for Auto Service Near Canton
Fastlane Import Auto Repair is committed to providing excellent auto repair service. Contact us if you believe your car needs servicing and we'll schedule an appointment as soon as possible. Before beginning any maintenance on your car, we will present you with a comprehensive estimate. If you would like to schedule an appointment, please call our Smyrna or Woodstock locations.